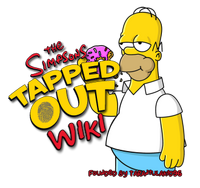 Welcome to the Wiki!
Welcome to The Simpsons: Tapped Out Wiki, founded by Tarantulakid96, and the soon-to-be number one spot for everything related to The Simpsons: Tapped Out by Electronic Arts.
Why was this wiki formed?
Other websites or wikis created related to the game are incomplete. They often leave out important details, don't give you everything, and are usually inconvenient. I hope that someday this wiki will achieve the opposite of those things, and will become a convenient source for everything you need to know about all aspects of the game.
Can I help build the wiki?
You want to help build this wiki? Go ahead! We need all the help we need. Try to create complete articles we have rather than creating articles without content. If you can't fill in the specs, leave it blank and let an administrator or someone else help you finish it. Please try not to create too many articles at once when there are existing articles that are a higher priority.
Not good at editing?
Don't feel like editing? Maybe you aren't a good writer, or maybe you can't work out how to use the edit function. Don't worry, you can still help out! The wiki is also in need of various images for galleries. We'll be needing screenshots of events, façades, costumes, and visual jobs (meaning you can visually see the character performing the job), which will each belong on their respective pages. We'll also be needing screenshots of premium buildings and character icons for page infoboxes, since the average Joe isn't lucky enough to spend his money on donuts. If you've got a premium character or building, send us a screenshot of them, and we'll edit it to fit format. Make sure that, if it's a building, that nothing is obstructing it, and that the building is a big as you can possibly make it without cutting it off the screen.