"We need more donuts! Do it before Homer eats them all!"
This article is a stub. You can help The Simpsons: Tapped Out Wiki by expanding it.
The Springfield Animal Shelter is a limited-time premium building that was released on December 8, 2015, as part of Act 1 of the Winter 2015 Event.
It was offered with a rebate of 20 Donuts on November 25, 2016, during Day 1 of the Black Friday 2016 Promotion.
It returned on December 15, 2017 during The Invasion Before Christmas 2017 Event as an item purchased in the store.
The Springfield Animal Shelter takes in sick and abandoned animals. The woman who works there has a grumpy disposition, and likes to put the animals to sleep.
Jobs Involved
Edit
Only one can be obtained.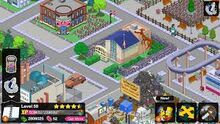 Community content is available under
CC-BY-SA
unless otherwise noted.