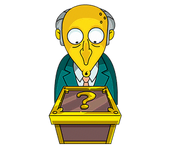 For for the original mystery box, see Mystery Box (discontinued).
The Mystery Box (initially called Revised Mystery Box) is a consumable introduced on April 1, 2015, which gives the player a random item. It replaces the Original Mystery Box and can be obtained by buying it for 6 Donuts in the store. It is also available as a reward from the Daily Challenges System.
Prizes
[
]
The prizes from the Mystery Box were much better than the ones from the original Mystery Box. A list of all available items and the chances to win them is provided below. The presented chances may vary if the player already has some or all of the unique items (Blue Haired Lawyer, Kearney, Squeaky Voice Teen, the Lemon Tree and the Tire Fire).
Dialogue
[
]
For some of the prizes there is a short dialogue that appears when the item is unlocked through a Mystery Box.
Blue Haired Lawyer
[
]
| Character | Dialogue |
| --- | --- |
| | Guess I just came into this game pro bono. |
Kearney
[
]
| Character | Dialogue |
| --- | --- |
| | Nice! Let's celebrate by me punching you so hard your grandma cries. |
Tire Fire
[
]
| Character | Dialogue |
| --- | --- |
| | Ah, the tire fire.... so many memories. Most of them carcinogenic. |
Squeaky Voice Teen
[
]
| Character | Dialogue |
| --- | --- |
| | I hope there's a career waiting for me at Krusty Burger. My girlfriend will kill me if there isn't. |
Trivia
[
]
When the Mystery Box was first released, one was given to players for free if they had Mr. Burns and if they logged on before April 30, 2015.
Mystery Boxes could have been obtained from the Daily Play Combo. As of February 4, 2016, the Daily Challenges System replaced it and players are occasionally offered the chance of completing challenges for a Mystery Box.
This box is sometimes referred to the "Revised Mystery Box" to avoid confusion for the original Mystery Box.
Gallery
[
]