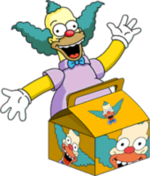 The Laffy Meal cost 25 donuts to purchase and gave the player either a premium object or Krustyland Tickets. It was added to the game when the Krustyland Expansion was introduced, as this special type of Mystery Box (discontinued) was only available for purchase in Krustyland. The Laffy Meal worked a lot like a Homer Buddha or Mystery Box (discontinued), except that it gave items for placement in Krustyland.
When Krustyland moved to Springfield during the Itchy & Scratchy Land 2018 Event, the Laffy Meal was removed and possibly replaced with the Krustyland Mystery Box, which gave the same items, but was only available for the event. After the event all the premium items dissapeared from the Krustyland store and could no longer be purchased. When the A Classless Reunion event started, all the premium items returned and are now available in the Yearbook Mystery Box.
Community content is available under
CC-BY-SA
unless otherwise noted.