The Ice Palace is a limited time premium building that was released on December 24, 2014, during the Christmas 2014 Event. It was released to accompany Ice Princess Martin and be part of the I Won't Be Home for Christmas episode promotional. It was originally supposed to be released at the start of the event (December 3, 2014) but was cut in a December 5 in-game update. It was reinstated back into the game at the second phase of the Christmas update.
It returned on November 29, 2017 during A Rigellian Christmas 2017 Promotion as a prize in the Winter Wonderland Mystery Box.
It returned on December 5, 2018 during A Simpsons Christmas Special 2018 Event as a possible prize in the Winter Wonderland Mystery Box.
It was featured in the episode during the couch gag as part of a reference to the widely popular Disney movie, Frozen.
Though only Level 6 is the minimum level to be able to unlock the Ice Palace, you need Martin to actually use the building, and as such, you actually require Level 12 to unlock the building.
Video
[
]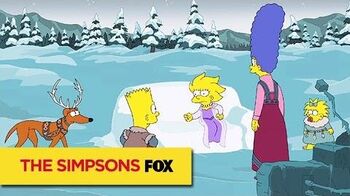 Gallery
[
]