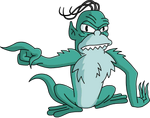 Gremlins
are an additional feature only available during the
Treehouse of Horror XXIV Event
. They can be released into your friends town for squishing! Gremlins can be obtained by tapping
ghosts
. A relativley large percentage of ghosts will give you Gremlins. To release Gremlins into other Springfields, you need to tap the gremlin icon on the top-right of the screen when you are visiting a neighbour's town. The number on this icon indicates how many you can release (not necessarily how many Gremlins you have).
Purchasing Gremlins
You can purchase a Gremlin Trio (three gremlins) for 2 donuts and a Gaggle of Gremlins (twenty gremlins) for 10 donuts.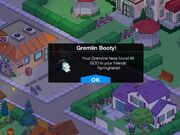 Trivia
A player can only have 10 released gremlins running around their own town.
When you release gremlins into a friends town it will collect GOO for you until that player taps him away. You will be notified if your gremlins collect GOO from other Springfields.
Squishing a Gremlin in your own Springfield will reward you with 2 GOO.
The gremlin, if not caught within 4 hours, will return automatically after 4 hours have passed since the player released them.