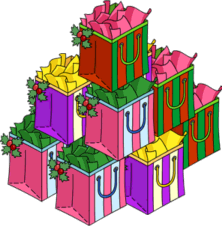 Gift Bags (

) were introduced in the Christmas 2013 Event and are the similar to the Gremlins from the Treehouse of Horror XXIV Event. You can place Gift Bags in your friends towns and they help earn more Gift Cards. In order to place Gift Bags in your friends town they (and you) MUST have completed the first part of the Too Much of a Good Thing quest. You can tell if they have done this because in the neighbor's town screen they will have a counter telling you how many gift bags you can place in their town. You can only place 5 gift bags per day per town.
You can get more gift bags by opening presents in your own town or by buying them in the shop.  6 Gift Bags are 10 Donuts and 12 Gift Bags are 15 Donuts.
Gift Bags also contributed towards the community prizes in the prize system in the event. You can not sell or put into inventory gift bags.
Community content is available under
CC-BY-SA
unless otherwise noted.