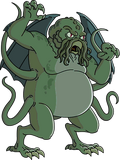 Cthulhu's Revenge 2019 Event is the 7th minor event of 2019 and 45th minor event overall. It was released on September 25, 2019, shortly after the conclusion of Krusty's Last Gasp Online 2019 Event, and ended on October 9, 2019.
The event started with the short quest IrreSpawnsible, followed by the main questline Cthulhu's Revenge.
The Cthulu's Revenge event is based on the intro to Treehouse of Horror XXIX
Cthulhu's Revenge 2019 Event

Key: Non-Premium · Premium

Main Quests
Side Quests
Buildings
Characters
Decorations
Currencies
Returning Content
Community content is available under
CC-BY-SA
unless otherwise noted.