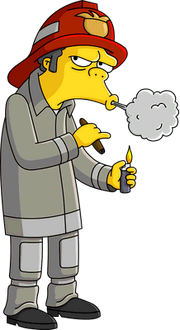 The Crook and Ladder 2016 Event is the 20th minor event overall and the fifth event of 2016. It started on March 31, 2016 and ended on April 14, 2016.
The main quest was We Didn't Start The Fire. It was followed by a shorter questline called After School Project if the player had finished the main questline. Also, if the player bought the Fireman Apu and Fireman Homer bundle, then two additional questlines started: Hot in Here for Fireman Homer and Woman on Fire for Fireman Apu.
From Pt.3 to Pt. 9 of the main questline the player could unlock prizes for Medals. Medals were earned by sending characters on a job and by putting out fires.
Fires were spawned in the player's town every 15 minutes until the maximum of 15 was reached. Upon tapping, fires rewarded either ten or sometimes 20 Medals.
During the event several buildings were on fire. This could either be caused by the progress in the questline or by neighbors tapping them.
Community content is available under
CC-BY-SA
unless otherwise noted.