The Christmas 2012 Event was the second major event to take place in The Simpsons: Tapped Out and the first Christmas Event. It was initially released to players on December 5, 2012 and included new limited time content and added the ability to collect the limited time currency, Santa Coins, to purchase buildings and decorations. The event ended on January 10, 2013, however the snow that covered the Player's Springfield during the event remained. It subsequently disappeared upon the release of the Valentine's Day 2013 Event on January 30, 2013, twenty days after the end of the Christmas Event. To date, this is the only instance of the snow remaining after the end of the Christmas Event. The release of the Christmas 2012 Event coincided at the same time as the Level 24 update.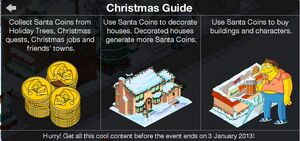 Much of the new content included characters in reference to The Simpsons Christmas themed episodes, such as the Funzos. With the new currency of Santa Coins, Players could purchase new Christmas decorated façades for houses and other buildings. New decorated building façades were priced at fifty Santa Coins each, and when a building was using one of them, it would produce five Santa Coins every 24 hours and not its regular payout. Some of the other new features and quests added in the event can be found below.
During the event, the free daily bonus Mystery Box (discontinued)es were replaced with Santa's Sack. Santa's Sacks gave the player between 10-20 Santa Coins. Starting January 2nd, 2013 players could spend their extra Santa Coins on Mystery Stockings. Mystery Stockings were 50 Santa Coins and contained 1-3 Donuts or Reindeer.
The event was also one of the rare updates that Electronic Arts announced before its official release. On December 3, 2012, they made a post on Facebook saying that a big update was coming soon with some holiday magic, obviously hinting to Christmas. Despite announcing the event beforehand, it was not until the next day, December 4, 2012, that they said the update would be coming on December 5.
The main questline for the event was Christmas.
Below is a list of all the new content included in the original Christmas Event released on December 5, 2012. Please note that after the event, some of the items listed are no longer available and the rest are now only purchasable using donuts.
Starting January 2, 2013 players could spend their extra Santa Coins on Mystery Stockings. Mystery Stockings were 50 Santa Coins and contained 1-3 Donuts or Reindeer.
| Character | Dialogue |
| --- | --- |
| | "I can't wait till the holidays are over and I can eat all our leftover Santa coins...just like I did with the Halloween candy." |
| | "But not all those coins are made of chocolate. Some of them are made of coin." |
| | "Doesn't matter. I'm still going to eat them." |
| | "How about if instead we use them to buy Mystery Stockings, which contain all sorts of goodies." |
| | "And then I can eat those? Lisa, you're a genius!" |
| | | |
| --- | --- | --- |
| " | Use surplus Santa Coins to buy Mystery Stockings before the Holiday Event ends on January 10th. | " |
|   | — In Game Message | |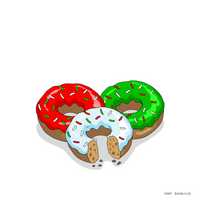 The "25% More Donuts" offer lasted between December 23, 2012-December 27/28, 2012. The offer was added to the game in an update on December 23, 2012.
| Name | Bonus | Total |
| --- | --- | --- |
| Boatload of 2400 Donuts | 600 | 3000 |
| Store Full of 900 Donuts | 225 | 1125 |
| Truckload of 300 Donuts | 75 | 375 |
| Tray of 132 Donuts | 33 | 165 |
| Stack of 60 Donuts | 15 | 75 |
| Dozen Donuts | 3 | 15 |
| Character | Dialogue |
| --- | --- |
| | "Ho-ho-ho boy. Have I got a Christmas miracle for you! To celebrate the season, all donut packages come with 25% more donuts! Which means a dozen is now 15. 50 is the new 40! And that tray of 132 donuts is now... well, Ol Gil's not that good at math. If he was, he wouldn't have to be standing out here in the cold hawking donuts. He's also not that good at grammar, always calling himself he instead of I..." |
| | "Fine, I'll look at the store. Just shut up already!" |
| | "Bless you, fat sir." |
Community content is available under
CC-BY-SA
unless otherwise noted.