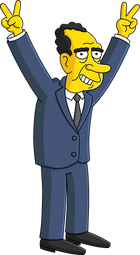 The Fourth of July 2015 was the eighty-seventh content update and the fifteenth minor event in The Simpsons: Tapped Out. It started on June 30, 2015, in the middle of the Tap Ball 2015 Event and ended nine days later on July 9, 2015. The event included new content as well as returning content from the previous Fourth of July events.
The main questline, Monetization Liberation, has Homer and Lisa "fighting" with Kang that he's still planning to destroy the planet.
If the players log in on July 4th, they received 13 free donuts. See the dialogue below.
It introduced a new Gil Deal offering the Scandal-Gate Hotel that come with Richard Nixon. See the dialogue below.
New Content
Edit
Below is a list of all the new content included in the Fourth of July 2015 Event. Please note that after the event, some of the items listed may be no longer available:
Returning Content
Edit
Independence DayEdit
| | | |
| --- | --- | --- |
| " | Happy Independence Day! Please enjoy these 13 commemorative donuts in honor of the original colonies. | " |
|   | — In-Game Message | |
| Character | Dialogue |
| --- | --- |
| | "Colonies? I thought America was made of states?" |
| | "Do you not care AT ALL about the history of this great country my friends and I fought so hard to create?" |
| | "Yes, and that I DIED for?" |
| | "There you go again. Always gotta work the assassination thing into every conversation." |
| | "Well it's true!" |
| | "Okay, we get it!" |
| Character | Dialogue |
| --- | --- |
| | "Ol' Gil has returned to Springfield with something both amazing and physics-defying. " |
| | "With the power of my non-patented snake oiled time machine, I give you everyone's... eh... "favorite" Commander-In-Chief!" |
| | "...shall resign the Presidency effective at noon tomorrow. Vice President Ford will be sworn in as President-" |
| | "WHAT THE -- WHAT IS THIS PLACE? WHERE DID THE OVAL OFFICE GO? AND WHY IS EVERYONE GLARING AND HISSING AT DICK NIXON?" |
| | "It must be that time of year again. Another ex-President has somehow appeared in Springfield." |
| | "President Nixon, welcome to the year 2015. It's an honor to... that is to say, it's nice to... er, it's actually not that great to meet you." |
| | "WHY DO YOU SAY THAT? TELL ME, AND BE QUICK ABOUT IT -- IS NIXON REMEMBERED AS AMERICA'S MOST ABHORRENT POLITICAL SCOUNDREL?" |
| | "Well, uh... kinda." |
| | "AND ALL BLAME FOR THE SCANDAL THAT ENDED MY PRESIDENCY RESTS ON DICK NICKSON'S SHOULDERS?" |
| | "Pretty much." |
| | "Then the plan worked. And America is safe. Thank God Almighty for that." |
| | "Wait... plan? What plan?" |
| | "DICK NICKSON HAS SAID TOO MUCH! DICK NICKSON WILL SAY NO MORE!" |
| | "What plan is former President Nixon referring to? What's the real story behind America's worst political scandal?" |
| | "And what do George Washington and Abraham Lincoln think of our most reviled President? Build the Scandal-gate Hotel to find out!" |
Offer Declined
Edit
| Character | Dialogue |
| --- | --- |
| | "What kind of a patriot doesn't purchase Richard Nixon on the Fourth of July? He's America's forty-fourth most beloved President!" |
| | "To be honest, I get it. I really do. I tried to get ANYONE but Nixon. Called up Jefferson, Grant, both Roosevelts...." |
| | "But their royalty fees are too high. It's hard to get the prestigious ones. They're not as desperate." |
| | "I did manage to sell six Nixons, at least. I hope ol' Gil can live off that income for an entire year...." |
Offer Accepted
Edit
| Character | Dialogue |
| --- | --- |
| | "The Scandal-gate Hotel. What a groovy old crib. Make sure to order the Continental breakfast. It's far out." |
| | "Gee, I wouldn't expect you to remember this place so fondly, Mr. President." |
| | "Dick Nixon tries not to live in the past. The great karmic wheel turns ever onward, carrying us where it will. Just sit back and dig the ride, little sister." |
| | "Dig the ride? Are you, like, doing a character right now?" |
| | "This is the real Nixon, baby. The "character" was the stuffed-shirt phony you knew as your President. That was all an act to keep "The Man" off Dick Nixon's back." |
| | "So this is how you actually talk? It's seriously not a joke?" |
| | "Now that I'm out of the political game, I can finally let my freak flag fly. Right on. Right. On." |
| | "It's actually pretty annoying. If you don't mind my saying so." |
| | "Hey, you gotta speak your truth. Now let's go get some beers." |
| | "I'm an eight-year-old girl!" |
| | "Nixon got a Presidential pardon. That means Nixon and all his good buddies can do whatever they want." |
| | "That's not how that works." |
| | "Whatever. Politics are dumb. I'm Audi 5000." |
Community content is available under
CC-BY-SA
unless otherwise noted.